Whilst there's a synonymity between Paul van Dyk's music and the genre trance, his sound has always been a diverse palette of sonics flowing through elements of progressive and deep melodic driven arcs. His latest single, 'But Not Tonight', in collaboration with English singer-songwriter Christian Burns, is a palpable illustration of this.
The original song is about solitude away from the crowds. It is a creation of Depeche Mode's genius and revered by many fans as perhaps their best B-side, a sentiment Paul, as both a fan of the band and artist himself, has long shared. Opening with a warm synth pattern that imbues the single's soundscape, Christian Burns' voice takes hold of the suspenseful track and is in tandem with the first phase of the song's groove.
The break on 'But Not Tonight' is a space filled with an incredible piano pattern that offers a broody texture to the deep, bass-baritone vocal part from Christian Burns' in this section. Before the track evolves into a racing climatic ending, demonstrating further why Paul van Dyk remains a cornerstone outfit in the world of electronic music. 'But Not Tonight' is not the first time Paul van Dyk has visited a Depeche Mode record, having previously remixed the UK band's popular hit single 'Martyr'.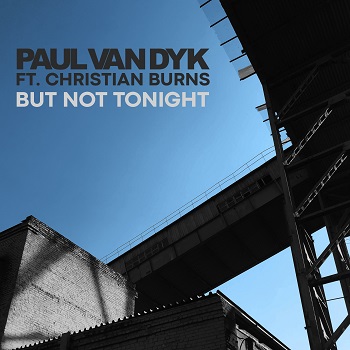 "Hearing Martin Gore's stripped-down version of the song during the bands iconic Berlin Live show, as part of their Delta Machine Tour, just knocked me off my feet", says van Dyk talking about the song.
"This version of song lingered me with long afterward that stunning concert. There's a deep, dark, and gripping verve about the song's timbre and particularly the lyrics that drew me towards needing to do a version of the song that would work for my sets. Christian and I know each other well and I felt with his vocal range he could perfectly phonate the lyrics for what this new version needed."
Paul van Dyk has helped establish the foundations of electronic music and persists in pushing its boundaries. Currently working on his 11th studio album, the renowned musical innovator continues to be more excited by electronic music and the scene than ever. Through his VANDIT imprint, he continues to supply the scene with dancefloor anthems month-on-month, and his weekly VONYC Sessions radio show recently passed its 815th episode.
Having written for elite artists that include Tiësto, Ferry Corsten, Kryder, Paul Oakenfold, and Benny Benassi, Christian Burns has become one of the most in-demand lyricists and vocalists in the world of electronic music. As one-third of multi-million selling Brit band BBMAK, he conquered the UK Top 40 and the US Billboard Top 100. As a solo artist, he has contributed to Grammy-nominated albums and put out two of his long-player releases, Simple Modern Answers and Love Songs from Suburbia.
Listen to the track below.