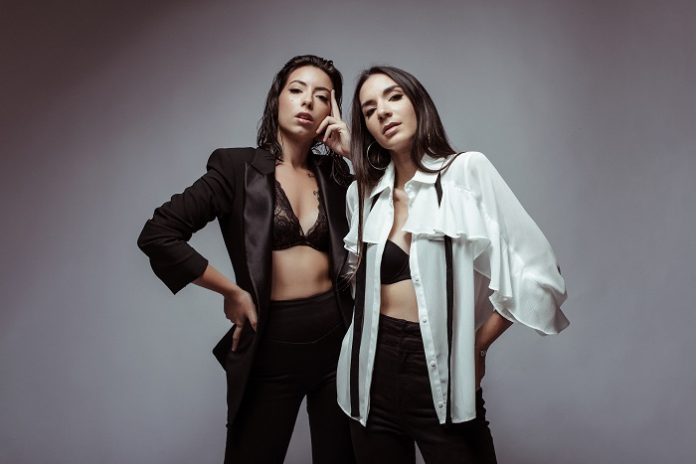 Italian multi instrumentalists, singer/songwriters, DJs and label owner duo Giolì and Assia release the new single "Playing Chess" from their forthcoming third studio album, 'Fire, Hell and Holy Water.'
Following the release of recent singles "Fire Hell and Holy Water," "Silence," and "I'll be Fine," the 4th single, "Playing Chess," brings us closer to the LP, set for release on September 9th on Ultra Records. The single is a piece of Depeche Mode-style electronica that was initially inspired by Florence & the Machine's track 'Shake It Out.'
One of the most energetic singles on the album, 'Playing Chess' is led by Gioli's uptempo drums and complemented by her captivating piano chords and Assia's vocals. The push-pull effect of the instrumentation reflects on the contrastingly intense and introspective nature of the record, all while showcasing the couples' unending love for one another.
"The lyrics revolve around the metaphor that we are nothing but pawns on a chessboard; part of a game, of a mechanism that is none other than the society in which we live today, which alienates us away from our more human and true form," Giolì and Assia said in reference to the creative process behind writing the single.
"The only escape from this game is the night; only in the night we reveal our true selves, only during the night we can be free, 'but when it's dark I know our souls are true, yeah when it's dark I see the light in your eyes, but when it's sunshine, you hide," they added.
Hailing from Palermo, Italy, Giolì & Assia have captured the hearts of fans around the world with their sublime and ethereal soundscapes. The duo create genreless sounds that are entirely their own from start to finish without any outside collaboration. Giolì, a masterful pianist who has been honing her craft since the age of 8, plays the piano, cello, drums, guitar, and handpan, with Assia commanding lead vocals and guitar across the album.
Giolì & Assia will continue touring around the world into the Summer & Fall, returning to North America in September with their biggest headline shows to date at LA's The Novo and Brooklyn Steel. The duo also have festival slots at Czech festival Colours of Ostrava, Austria's FM4 Frequency Festival, Chicago's ARC Music Festival, Las Vegas's Life is Beautiful, San Francisco's Portola, and more.
Set for release September 9th on Ultra Records, 'Fire, Hell and Holy Water' is the band's biggest body of work to date, a 16-track labor of love. Named after a well known local Sicilian saying, the record documents their turbulent and intense highs and lows as a couple, and the health problems and untimely losses of relatives during the pandemic. Referencing a plethora of major sonic influences, the pair cite London Grammar, Coldplay, Depeche Mode, Labyrinth's Euphoria score, U2 and Ludovico Eunaudi as just a few of the many formative inspirations on their landmark forthcoming album.
Around the album launch and tour dates, Giolì & Assia recently launched a contest to win a golden custom G&A handpan, vinyl test pressing, merch capsule, 2 tickets to a headline show, meet & greet and more. Enter to win via the link here.
Listen to the track below.