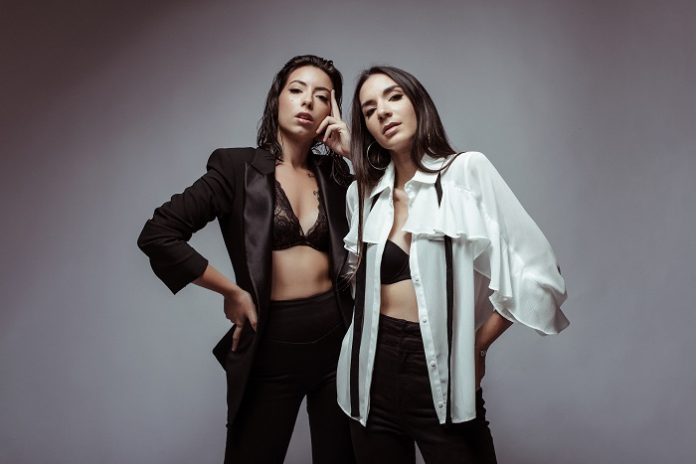 Italian multi instrumentalists, singer/songwriters, DJs and label owner duo Giolì and Assia release the new single and video for "Eurydice" from their forthcoming third studio album, 'Fire, Hell and Holy Water,' due out on September 9th via Ultra Records.
Following the release of recent singles "Fire Hell and Holy Water," "Silence," "I'll Be Fine," and "Playing Chess," "Eurydice" brings us closer to Giolì and Assia's highly anticipated LP release. Through enchanting melodies and imaginative lyricism, "Eurydice" details the tragic love story of mythological Greek characters Orpheus and Eurydice. A delicate addition to their collection of intricate originals, "Eurydice" beautifully pairs Assia's ethereal vocals and Giolì's dynamic percussion. Captivating from start to finish, "Eurydice" is a true testament to their talents both as songwriters and storytellers.
"'Eurydice" is undoubtedly the pillar that gives life to the whole concept of the album 'Fire, Hell and Holy Water;' where "hell" is a metaphor for depression, The escape from hell to the land of the living represents the journey and the fight against that depression," Giolì and Assia describe.
"The song is written as if it were Orpheus speaking, and apologizing for turning around and causing Eurydice's death. Orpheus was willing to walk into the underworld; to burn his skin [in hell] and sing to the Gods, in the name of his love for Eurydice. Musically, the song differs from the genre of other tracks on the album. Here, the sound is sweeter; more melodic and romantic, and intertwines perfectly with the sweetness of the lyrics," they added.
Alongside the single release today, Giolì & Assia have unveiled a new music video for "Eurydice", which sees the girls performing the track on a beach illuminated by the moonlight. Their first video available in Sony immersive audio on YouTube, the music video is a refreshing addition to their catalogue, which includes their boundary-pushing video series "#DiesisLive".
Set for release September 9th on Ultra Records, 'Fire, Hell and Holy Water' is the band's biggest body of work to date, a 16-track labor of love. Named after a well known local Sicilian saying, the record documents their turbulent and intense highs and lows as a couple, and the health problems and untimely losses of relatives during the pandemic. Referencing a plethora of major sonic influences, the pair cite London Grammar, Coldplay, Depeche Mode, Labyrinth's Euphoria score, U2 and Ludovico Eunaudi as just a few of the many formative inspirations on their landmark forthcoming album.
Around the album launch and tour dates, Giolì & Assia recently launched a contest to win a golden custom G&A handpan, vinyl test pressing, merch capsule, 2 tickets to a headline show, meet & greet and more. Enter to win via the link here.
Listen to the track below.