HypnoVizion label head Rezz and up-and-coming bass producer Quackson released 'Gyrate ft. Wreckno', an explosive, energetic track that inspires fear and pleasure at the same time. Quackson captured Rezz's attention earlier this year with his demos, laying the groundwork for this massive collaboration. The perfect finishing touch to the track are the spicy vocals lended by the dance music's fastest rising star, Wreckno.
Since bursting onto the scene in 2015 on Skrillex's label OWSLA, Rezz has solidified herself as a bass music icon with millions of streams, headlining slots at major festivals all over the world, and the launch of her own label imprint, HypnoVizion, last October. With HypnoVizion, she opened doors for budding producers like Seattle-based Quackson, who was influenced by her dark, hypnotic sound.
"Rezz was the artist who first inspired me to start producing, so this is a crazy full circle moment and I couldn't be happier with how it turned out." – Quackson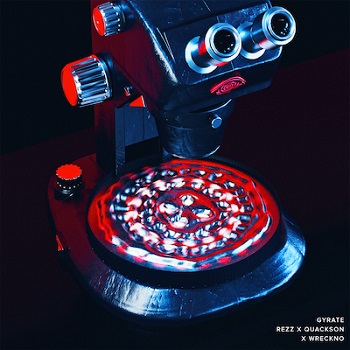 Having opened for Rezz at her sold out Red Rocks shows last year, Wreckno was a natural choice to provide the punchy vocal hook that primes the track for its booming drop. Wreckno – 26-year-old DJ, rapper, producer, dancer, and LGBTQ+ icon – has had an impressive year, playing landmark events such as Bonnaroo, Electric Forest, Lollapalooza; label releases with iconic brands such as Four Loko; and music featured in Fortnite and NBC Peacock's "Queer As Folk."
"I'm so excited that Rezz and Quackson reached out to collab on 'Gyrate'. I had the privilege of joining Rezz on tour this past year and I've been itching to work together. This track is a total anthem that's going to erupt on the dance floor!" – Wreckno
The final product of this massive collaboration is a track that could feel equally at home in a nightclub as in a horror film. 'Gyrate' will immediately capture fans of Rezz's signature midtempo style and draw in listeners from all other areas of bass music seeking a thrill.
"It definitely will be a track I play out live for a while," Rezz said.
Listen to the track below.