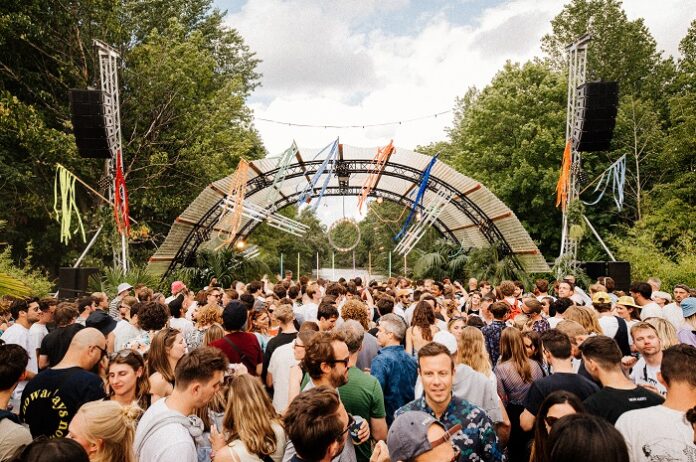 The summer is coming closer, and so is the eighth edition of Paradise City. Besides its legendary dancefloor energy, the electronic music festival is famed for its lush green waterside location, professional organization, impressive stage design, and high-quality light and sound productions.
In anticipation of the festivities, the Paradise City team has now dropped the first part of the artist line-up.
In alphabetical order:
Adriatique – Aili – AliA & Driss Bennis – Aroh – Avalon Emerson – Christian AB & Quest – Dan Andrei – Eris Drew & Octo Octa – Folamour – Helena Hauff – JakoJako (live) – Lander & Adriaan – Leafar Legov (live) – Lola Haro – LSDXOXO – Nico Morano – Palms Trax – salute – Sara Dziri – Shanti Celeste – Vitess (live) – Vlada – VTSS & Nene H – Yulia Niko – Zouzibabe
Palms Trax and Folamour, two of Europe's most popular in-demand DJs, are scheduled to unleash their brands of euphoric house and disco music on Paradise City's dancers. Fans of melodic house will be happy to see the return of Adriatique, while Helena Hauff and LSDXOXO will scratch the itch of every techno lover.
With VTSS & Nene H and Eris Drew & Octo Octa, the booking team has set up two highly anticipated back-to-back sets with some of the hottest names in rave music at the moment. Lastly, regular guests Lola Haro, Nico Morano and Sara Dziri will provide the signature dance vibes they have become famous for.
To host all this incredible talent, Paradise City will set up a brand new sixth stage with a modest capacity but aimed at providing nothing but high-energy sets.
Also new this year: an expansion of the night train program in cooperation with NMBS. In 2023, you can book a seat from Vilvoorde station back to Brussels, Antwerp, Mechelen Ghent, Leuven and Hasselt after the last beat. Finally, the campsite will receive a big upgrade too. This means more space per camper, upgraded camping services (like live performances, DJ sets or yoga sessions) and three healthy breakfast buffets included in the camping fee.
As a festival that prioritises keeping its ecological footprint as low as possible, Paradise City Festival is proud to have received the 'Outstanding' label from A Greener Festival, a non-profit organisation that helps events become more sustainable and reduce their environmental impact. This highest possible rating confirms the event's status as the greenest music festival in Belgium.