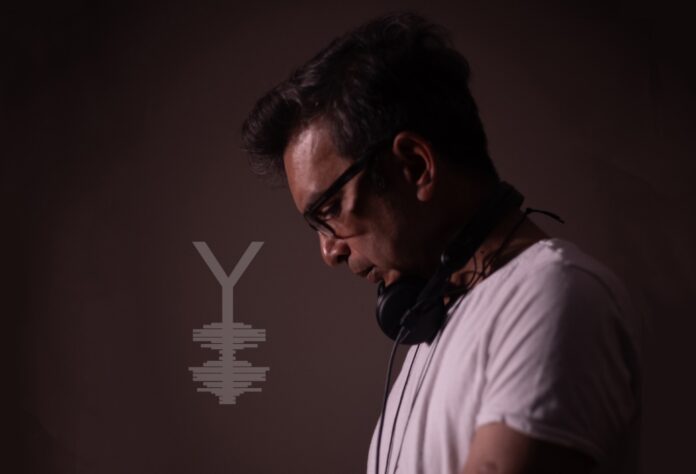 Our team had the chance to catch up with the extremely talented DJ and producer SECR3T KEY to find out more about his music career.
Check out the full interview below!
1. Tell us more about yourself and your music career
My music career is my "Afterlife". Let me explain – I spent most of my career as a tech-CEO, where I cofounded and ran a cybersecurity software business for 20 years and then, successfully sold, exited the business. Now I am semi-retired spending half of my time as an Advisor to private equity firms and their portfolio companies, and the other half, on my music career.
Music is my first love and I finally got a chance to pursue it. Over the past 3 years, I have been working very hard to develop my music production/DJ skills. While this is purely a pursuit of passion for me, I am very focused on my music career, spending around 40-60 hours per week over the past 3 years. I was also lucky to get the advise of mentors along the way, that has hugely shortened my learning curve. There is only so much one can learn on YouTube!
Now, I regularly DJ in the NY area clubs and events and have started to release my own music with labels.
2. How would you describe your style of music?
This is a tough one – I am still figuring out my "sound/style of music." Intentionally, I have been working on different styles/genres of music, to broaden and improve my production skills. My friends tell me that I have my own signature/sound when it comes to my tracks, but I am yet to figure that out!
What I do strive for, is to create music, that is soulful and something people can vibe to or dance to. Meaning, I would like people to have an immersive experience and "wear the music" when they listen to my music.
3. Where do you find inspiration?
From people! I love to bring a smile on people's face when they listen to my music. I have found so much joy in my life through music, I would love to give back to the extent I can.
Being able to create and share music is such a privilege – that in itself is an inspiration!
4. Describe how music is important to society
Music is a universal language that touches and connects people in so many ways. It brings people and communities together – where they share a common goal of joy, peace and harmony through music. Music heals people in ways that even modern medicine can't!
5. What is the best time of the day to create music?
I have always been a night-owl. My most productive and creative time is between 10PM – 3AM. I also find myself being very pragmatic in the mornings, after my first cup of coffee – I find this time to be the best to evaluate the music I created the night before. Sometimes I find the music to be as good as I thought it was the previous night…but many times, I am like "what is this?!!" and I rewrite it. This is probably one of best recommendations I can give to other artists – to take a break after a long session and come back to it, with a fresh mind and re-listen.
6. Who are your musical influences?
So many! My favorite producers span across many different genres – I like them because of their versatility and uniqueness, and their willingness to take risks. Avision (my mentor), Maceo Plex, Catz and Dogs, Tal Fussman, Nandu and Denis Cruz. And in the mainstream pop-music world, I like A. R. Rahman (Indian/Bollywood), Michael Jackson, Madonna, to name a few that are top of mind. As far as DJs, Solomun, Dixon, Damian Lazarus and Bedouin are some of the most creative DJ's that are constantly evolving and play music that connects with my soul!
7. What is the most difficult thing about being a musician?
It is everything else that the musician needs to worry about, other than creating music! The marketing, PR, social media, managers, etc., and oh, did I mention guestlists?! End of the day, as a musician, you must think about being a business and a brand. You must be creative but still run it like a business to be successful. I am still learning the music industry and uncovering my creative-self and I have a long way to go.
8. What has been your biggest career highlight so far?
Signing with a popular label like Cafe De Anatolia is definitely one of them. The other being that my debut EP "Fuego" that I launched with my original track and remixes by producer Dolbytall, made it to #1 in Top 100 releases on Beatport. I couldn't have asked for a better start to my music career.
9. What are your latest releases?
Fuego EP – released November 2022
10. What is your connection with Cafe De Anatolia?
When I got done with my track "Rusty Boat," I was looking for a note-worthy label that focuses on organic house / downtempo music. Cafe De Anatolia is certainly one of top labels in this genre and was an obvious choice for me. I am super excited and pleased that they selected our EP as well.
11. Are you working on something new?
Always! I am constantly creating music – every day, every week! (Even when I am not in my studio). I didn't want to release one EP and then wait to create the next one, as these things (especially getting a label signed) takes time. I made sure I had a pipeline of tracks ready to go, that I feel are label-release-worthy, and then released my first EP. I am constantly adding to this portfolio and now started reaching out to labels that might be a fit.
12. Where and when is your next performance?
I have planned a release party of this "Rusty Boat EP" that we will release with Cage De Anatolia. The event will be held at one of my favorite places called Lou Lou's, in Manhattan, New York, on Jan 19, 2023.
13. What's the best piece of advice another musician ever gave you?
Wait, wait, wait!! As a producer, we are all anxious to get our music out there. I thought the first track I made, was the best track ever and I wanted to release it. Now, when I look back on it, I realize how wrong I was. Best advice I got, was from my mentor Avision, who asked me to wait till I was ready. And, when I launch, to have a pipeline of tracks ready to go, so you don't release one and have a big gap between releases. Best advice, ever!!
14. What's your process for dealing with performance anxiety?
It is actually good to be a little nervous before or during a performance – it means that you care! The way I deal with it is to tell myself that I am here to have fun. There is no such thing as a perfect performance – mistakes can happen and will happen. The key is to learn from it, move forward and have fun. I try to connect with my audience early in the session, feed off each-other's energy…and then everything flows smoothly from there for me.
15. How did Covid19 changed the terms of music industry? How did it affect you?
Covid19 was a huge disrupter to the music industry – while it affected many events during the heat of the pandemic, it was actually a blessing to the music industry. Many music lovers found time to learn how to become a DJ or to produce music or figure out other ways to get engaged with the music industry. I believe there is a DJ in every music lover!
During Covid, many actually got a chance to try it out. Easier access to music, technology, resources to learn and practice DJing and music production has never been greater. I won't be surprised if the next big DJ/Producer started as a "bedroom DJ" during the Covid19 era, that decided to make music as his/her next career and made it BIG!
Personally, for me, I had already exited my cybersecurity software business and was planning to pursue music anyways. But what Covid did do, is that it put the rest of music industry events at a pause, and gave me a head start to catchup, as much as I could…with little to no distractions.
16. Do you have any advice for aspiring musicians?
A few, that have helped me –
a. Dream big but work hard! There are no short cuts here – you have to put in the time, to learn the trade and the business side
b. Be different / unique – making the same kind of music that is out there is not rewarding
c. Challenge the status quo – this is when creative and disruptive things can happen
d. Be open to criticism – seek feedback from people you trust. Don't send music to friends who will just say things to please you. Yes, you need some of those, to keep you going, but you will need a good critic to improve.
e. Look for a good mentor – one that teaches you how to fish!
f. Don't just network with people in the industry, build meaningful relationships with them.