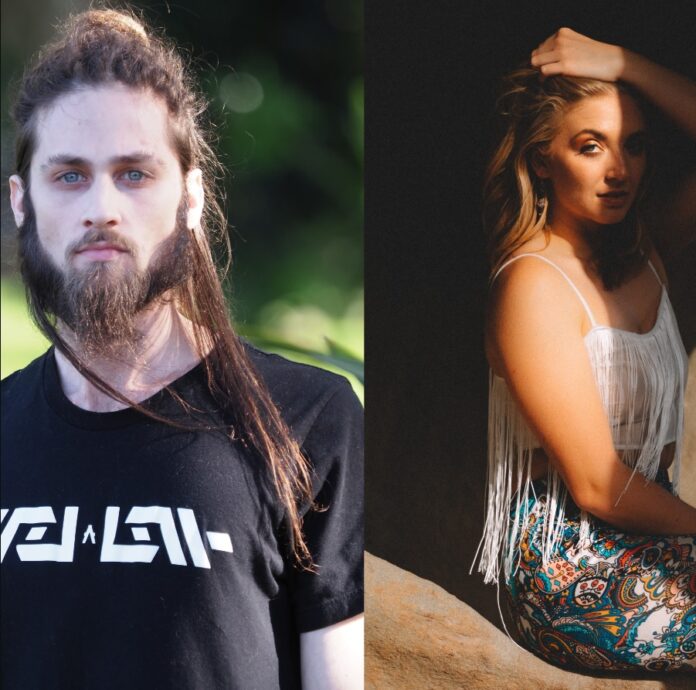 Mind-bending electronic artist Asher Shashaty is continuing to heat up via his new collaboration with singer Dani King on their single "Feeling", a prelude to Shashaty's highly-anticipated album "Astral Spring".
The track opens with celestial soundscapes and King's captivating vocals, followed by a fusion of gospel-inspired chords and melodic hooks. As a result, "Feeling" packs a powerful instrumental and impactful lyrics, making it the optimal Valentine's Day tune.
From the start of "Feeling", Dani King's musical talent is evident . Originally from Chicago, she now resides in Los Angeles and began her musical journey at 12.
Her love for EDM has only grown, resulting in performances at prestigious festivals like Electric Zoo and Lost Lands. Additionally, King has collaborated with artists like Whales, Bear Grillz, and Swarm, showcasing her skilled singing. Her style complements Asher's sound design perfectly in "Feeling".
Also embedded in this bass-fueled anthem, Asher's signature production style shines bright. He blends personal experiences, musical influences, and experimentation in his work, telling an imaginative story throughout "Feeling".
With the ability to merge genres, Asher is gaining momentum with his recent hits like "What I Need", featuring Strung Along and Misdom, and "Urban Forest" with Miyoki. These tracks, including "Feeling", will be on his upcoming album "Astral Spring", highlighting its vast prospect.
Listen to the track below.
Check out the interview below!
What type of mindset do you manifest internally that helps energize you toward your goals? What keeps you going?
Dani: I'm not going to lie to you – my energy and mindset comes from raging ADHD and an extreme excess of energy. I've always had a positive and sunny outlook on life, which is bolstered by the fact that I love music so much it's hard to stop working sometimes.
I have an incredible team behind me too, pushing me to be the best artist I can possibly be. Every step forward with them makes me want to write 20 more songs! I'm so passionate about the music that I am writing currently and it only feels natural to keep pushing for more.
Was there an 'a-ha' moment when it comes to how the final version of this release, 'Feeling,' would come out?
Asher: When I finished the instrumental, and pitched the song to Dani, she sent back vocals that blew me away. Dani wrote the song with her good friend Max Hurrell, and it fit the vibe of the instrumental perfectly. When writing the instrumental I had a feeling this song was going to be special, but since I got the vocals back from Dani, I know that the song is special.
What type of vibe do you hope listeners will pick up on from 'Feeling?'
Dani: "Feeling" is not a sad breakup song by any means – it's actually about a guy I dated for a long time that ended on good terms. I wrote this song with a great songwriter, Max Hurrell, and we were reminiscing about the people we dated before we met our "person" (respectively, his beautiful wife and my current partner). We both had these experiences with our exes that taught us valuable life lessons in order to build the happy, healthy, and stable relationships we both have today.
There's a really important line in the second verse that reads "you were too uptight to get your way, you taught me how to fight but not to stay." For me, that line sums up all of the relationships that lead to "the one" that sticks. Whether you're in the middle of a breakup, you've already met the one, or your journey in love is just starting, I hope that this song resonates with you in some way.
What do you think 2023 has in store for you?
Dani: A LOT. I am so stoked that I get to start the year off with this release, but without giving too much away….March is going to be crazy. We have a lot of releases, and a lot more live performances coming this year as well!
Are you happy with where you are at in life at the current moment?
Asher: Being happy is a choice that needs to be made on a daily basis. There isn't a day I wake up that I don't have to choose to be happy over being down. Healthy day to day lifestyle choices, in every area of my life is how I maintain a healthy and happy mind.
Music is very important to me, but neglecting my mental health for music isn't a trade off I am willing to take. Mental health always takes priority and productivity, plus healthy living, trickles down from there for me.
What are you most excited about coming up in relation to your music career?
Asher: I am most excited for the release of my debut album Astral Spring and the mini tour I've got going on with it! It has been a long time since I performed live and I am very excited for that! I am excited to collaborate with other talented artists, and expand my brand.