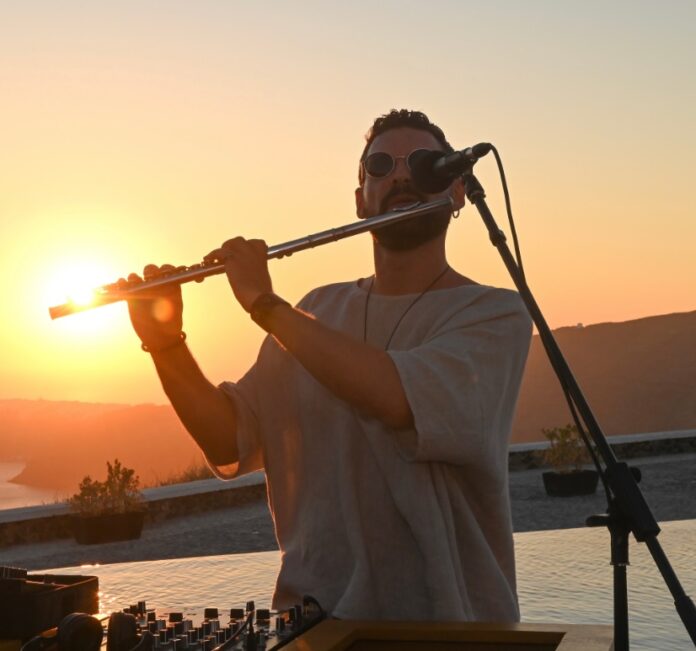 Alexandros Dimoulas better known as D'AL SENIO is making an impact in the electronic music scene lately. We had the chance to catch up with him and he was happy to answer all of our questions.
Check out the full interview below!
Tell us more about yourself & your music career?
I grew up in Athens Greece, where I started as an organic musician at a very young age playing guitar, saxophone, flute and performing with live bands, club DJs and theater acts in the capital and islands. There I was exposed, for the first time, to electronic dance music in Mykonos at the famous parties of Cavo Paradiso and I was inspired to start producing my own music mixing live instruments with electronic beats.
In Greece, there are a lot of traditional music idioms in each region and the Middle Eastern sounds are very prominent thing that nourished my childhood but there was a moment I wanted to go deeper into music and explore other cultures. After a short trip to Paris, I decided to move there as I was impressed with the variety of music and culture that is affluent in this region and ended up staying there for the next ten years.
During this period, I had the chance to study music with some upscale Ethnic/Jazz artists and gained exposure to even more African, Caribbean and North African music culture which is very prominent there. I played with all kinds of music ensembles (ethnic, reggae, afrobeat ,funk, jazz..) fashion and dance shows. At the same time I started to develop my sound as a producer, creating a hybrid electronic live project with saxophone, percussion and tribal fusion dance. This evolution led me to play in some of the most influential clubs/festivals in Paris, releasing records in several electronic genres and gave me the chance to perform around the world (France, Portugal, Thailand, Morocco, Cuba, Croatia..).
After a long experimentation period, I felt it was necessary to focus my energy into the Afro/Organic House sound as this was becoming a natural progression in expressing my own voice. My first releases had a very good impact, climbing fast onto the Top100 Afro House charts which was supported by respected DJs and radios worldwide, pushing me to continue even further.
I couldn't think of a better place than Tulum for this kind of sound so naturally I followed my heart and moved there in start of my next journey. Immediately it felt like home as Tulum embraced my craft to where I am today.
How would you describe your style of music?
Ethnic Dance music for body & soul! My performances could be anything from sunset Organic House vibes to peak time Afro House and elegant Tech with me playing live flute on top.
Where do you find inspiration?
Everywhere! In nature, spirituality, philosophy, ancient rituals, friends, books,
food, everywhere!
Describe how music is important to society.
From ancient times, music brings people together and connects them with their higher self. In ancient Greece music was one of the basic subjects that was taught as they believed music imitates the movement of the soul.
What is the best time of the day to create?
I don't have a particular time, it's all about catching the moment whenever that comes.
Who are your musical influences?
My influences come from a wide range of World music, Reggae/Dub, Spiritual music, Blues Jazz and from the sound of Tulum & Burning Man .
I wouldn't be where I am today without the inspiration from artists like: Bob Marley, Pink Floyd, Miles Davis, The Doors, Manu Dibango and Thievery Corporation to name a few.
What is the most difficult thing about being a musician?
Embracing uncertainty along with the highs and lows that comes when walking this path, it's not always easy but yet very exciting!
What has been your biggest career highlight so far?
I spent the last couple of winter seasons in Tulum and the summer seasons touring the Greek islands where I had the chance to perform in very special venues. It's hard to choose only one. I would say my performance at MIA Tulum as a club experience, my Live Sunset set at AZULIK Tulum and NOBU Santorini would probably be the ones.
What are your latest releases?
My latest releases are "Believe" released by Cafe De Anatolia and "Mirror of Your Soul" out on my label AktinA Records.
What is your connection with Cafe De Anatolia?
When I finished my latest track "Believe" I sent it directly to Cafe De Anatolia, feeling it was the perfect match. I love the ethnic vibe and high quality music of the label and I had them in my mind for quite some time for future releases.
Are you working on something new?
Yes. A lot of new music and collaborations are on the horizon and can't wait to share this with everyone. I just finished my remix for TOSCA which will be released in the coming months.
Where and when is your next performance?
I'm currently in Tulum finishing some recordings and getting ready for my tour this summer in Europe .My next performance will be in Mexico with BELLS IN THE CITY in the coming weeks.
What's the best piece of advice another musician ever gave you?
Be yourself and trust the process.
What's your process for dealing with performance anxiety?
Trying to maintain as much of a healthy lifestyle and keeping my energy high.
Do you have any advice for aspiring musicians?
Believe!