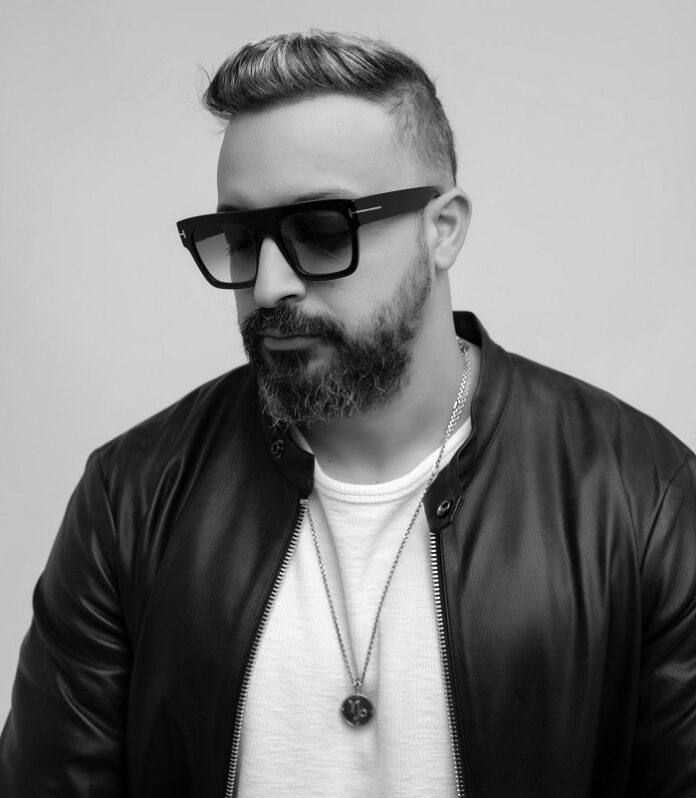 Multi-talented DJ & music producer Moe Fakharany aka Pyramido from Cafe De Anatolia, took some time to chat with us and told us more about what lies ahead for him in this exciting new year.
Check out the full interview below!
Tell us more about yourself & your music career?
I'm a passionate and dedicated music artist from the US. I've been producing and performing music for over 10 years. I specialize in Organic House, Afro House and Melodic Tech, and I pride myself in being able to create a unique blend of sounds and styles. I've performed at countless venues in the US and Middle East. I've also had the opportunity to collaborate with some of the biggest names in the music industry.
My musical career began as a result of my dedication to the craft. I started honing my skills and learning the ins and outs of creating music at a very young age. Over the years, I've worked hard to perfect my sound and become a respected artist in my genre. I've released several singles, and I'm currently working on an EP.
How would you describe your style of music?
I have a great love for music and I take great pride in the music that I create. I like to experiment with different sounds and styles in order to make something that is truly unique and special. I like to create something that is both catchy and engaging for listeners. I strive to create music that is meaningful and resonates with people.
Where do you find inspiration?
Inspiration can be found in many different places. It is all around us and can be drawn from the simplest of things. Nature can be a great source of inspiration. Watching the sun rise or set, spending time in the forest, or admiring the beauty of a waterfall can be great ways to gain some new perspective. Alternatively, spending time with friends and family can be a huge source of inspiration. Being around people we care about and trust can often help us to come up with new ideas and push us to take risks that we might not have considered before.
Art is also a great source of inspiration. Reading books, watching movies, visiting museums, and viewing art galleries can help to spark the imagination and open up our minds to new possibilities. Similarly, music can often be a great source of inspiration. Listening to a favorite artist or discovering a new genre can often ignite our passions and help us to think of things in new ways.
Describe how music is important to society.
Music is an essential part of many cultures and traditions. It can be used to tell stories, to celebrate, to mourn, and to express ourselves in ways that words cannot. It is an important part of our history, providing a window into the past and a way for us to better understand our ancestors and the ways in which they lived.
Music also plays an important role in society today. It can provide entertainment, help us relax, and even provide motivation. Music can be used to help set the mood, to bring people together, and to create a sense of belonging. It can be an important part of any gathering, from parties and concerts to religious services and political rallies.
What is the best time of the day to create?
My best time for creating music is in the evening. I find that this is the best time for me to focus and really get into the creative flow. There is something special about the evening that sets the stage for me to explore my own creativity. The darkness of the night provides an atmosphere that is calming and inviting. The energy that the evening brings helps me to relax my mind and focus on my music. It is at this time that I can truly lose myself in the music and find inspiration.
Who are your musical influences?
Music has been a huge influence in my life and there are many artists and performances that have impacted me over the years. Growing up, my parents were both avid music fans and exposed me to a variety of genres, including jazz, classical, and blues. As a kid, I loved singing along to the Beatles, Michael Jackson, and Queen.
Later on, I discovered the power of House music, with artists like Solomon, Marco Carola, and many more. Music has a way of connecting us all and has the power to bring us joy, comfort, and inspiration. Whether I'm playing an instrumental piece, writing a song, or just listening to my favorite tunes, I'm constantly reminded of the incredible influence that music has on our lives.
What is the most difficult thing about being a musician?
Being a musician is not an easy task. It requires a lot of practice, determination and hard work to become successful. The most difficult thing about being a musician is dealing with the pressures of the music industry. Musicians have to constantly strive to be at their best and stay ahead of their competition. They often have to face criticism and rejection from industry professionals, fans and other musicians.
Additionally, musicians have to deal with the financial aspect of their career. Making a living from music can be a challenge and requires a lot of creativity and dedication to make it work. Furthermore, the ever-changing music industry has made it even more difficult for musicians to stay current and relevant. The journey to becoming a successful musician is a long and challenging one, and it takes a lot of commitment, dedication and hard work to make it all the way.
What has been your biggest career highlight so far?
My biggest music career highlight so far has been performing at the renowned Madison Square Garden. It was an incredible experience and I was so proud to be standing on that stage. The atmosphere was electric, the crowd was enthusiastic and the energy was palpable. I was overwhelmed with emotion when I saw the large crowd that had come out to see me perform. It was one of the most memorable nights of my life.
I had worked hard to get to that moment and it felt amazing to finally be there. I had to pinch myself to make sure I was not dreaming. It was an incredible feeling to hear the crowd singing along with me to my songs. It was surreal to be able to perform in such a legendary venue and I was humbled by the experience.
Where do you find inspiration?
Music inspiration can be found anywhere; it just takes a bit of creativity to recognise opportunities. Being open to new experiences, embracing different cultures, and listening to different types of music can help spark ideas. Exploring the works of other artists, either through live performances or online, can help provide a new perspective and a source of inspiration.
Furthermore, the act of listening to music itself can be an inspiration. Whether it's a song heard on the radio, or a playlist of old favourites, the sound of music has the power to transport us to a different place and evoke different emotions. Finally, day-to-day events, conversations, and even mundane activities can be a source of music inspiration. Paying attention to the small details of life can often inspire something new and unique. In conclusion, music inspiration can be found in the most unusual places, the only limit is your imagination.
What are your latest releases?
2 tracks (The End and Clinic) it will be released on April 13th.
What is your connection with Cafe De Anatolia?
There are 5 tracks connected me with Cafe de Anatolia (Sabrosa, Heaven, Wisdom, The End and Clinic).
Are you working on something new?
I'm always working on something new. I've committed to myself that every month I should sign new track So I'm working on 8 projects this year.
Where and when is your next performance?
I'm a resident in different clubs in Los Angeles and my next big gigs will be in Middle East (Egypt and Dubai).
What's the best piece of advice another musician ever gave you?
I have been fortunate to have had many amazing musicians offer me advice throughout my career. One piece of advice that has always stuck with me was from a mentor of mine who said "Never stop learning and never stop creating".
This advice has served me well over the years as I have continued to expand my knowledge and develop my craft. It has pushed me to take risks and to explore new ideas, even if it means stepping out of my comfort zone. By putting this advice into practice I have been able to find new inspiration and grow as an artist. With each new experience I am able to gain more insight into the world of music and develop my sound. This advice has been invaluable and has helped me to become the musician I am today.
What's your process for dealing with performance anxiety?
Performance anxiety is a common concern for many people. I have developed a process for dealing with it that has been successful for me. The first step is to identify the source of the anxiety. Am I feeling anxious about the performance itself or am I worrying about what other people will think? Once I have identified the source, I can work on it. If I am feeling anxious about the performance itself, I make sure to practice and prepare as much as possible.
I also take deep breaths and consciously relax my body before the performance. If I am worrying about what other people will think, I remind myself that I am doing my best and that is enough. I focus on the process and my performance rather than the outcome. Lastly, I give myself grace and encourage myself that it is okay to make mistakes. This process has really helped me to manage my performance anxiety and I'm sure it can help others too.
How Covid19 changed the terms of the music industry?
The Covid19 pandemic has brought the music industry to a grinding halt. With the cancellation of live concerts, festivals, and other events, the industry has had to adapt to the new normal. Many record labels have had to close, leaving artists without a platform to share their music. Musicians have had to rely more on digital platforms to promote their music and engage with their fans. Streaming services have become even more popular as people look for ways to listen to new music from the comfort of their own homes.
As an artist, I have had to get creative with how I promote my music. Instead of touring, I've had to focus my efforts on online promotion and connecting with fans through social media platforms. I've also had to find new ways to make money, such as selling merchandise and offering online lessons. Although these changes have been difficult to adjust to, I'm thankful for the opportunities that the digital space has provided me.
The Covid19 pandemic has changed the terms of the music industry, but it has also opened up new opportunities for artists. Even though the industry has had to adapt to the new normal, artists have been able to find ways to remain creative and successful.
Do you have any advice for aspiring musicians?
If you have a passion for music, you should pursue it! Aspiring musicians have a lot of work to do in order to make it in the music industry. Firstly, you need to believe in yourself and your talent. You have to be sure that you have something special to offer and have the confidence to take on the challenge of becoming successful.
Secondly, practice, practice and practice some more! You need to be able to express yourself through your music and practice will help you to develop your skills and perfect your craft. Additionally, you should be networking and building relationships with other artists and industry professionals. Connecting with the right people can open up opportunities and help you get your music heard.
Finally, be patient and persistent. The music industry is a competitive field and it may take some time before you start seeing tangible results. Don't give up and keep pushing forward with determination and passion. You never know when your music could be the next big hit!