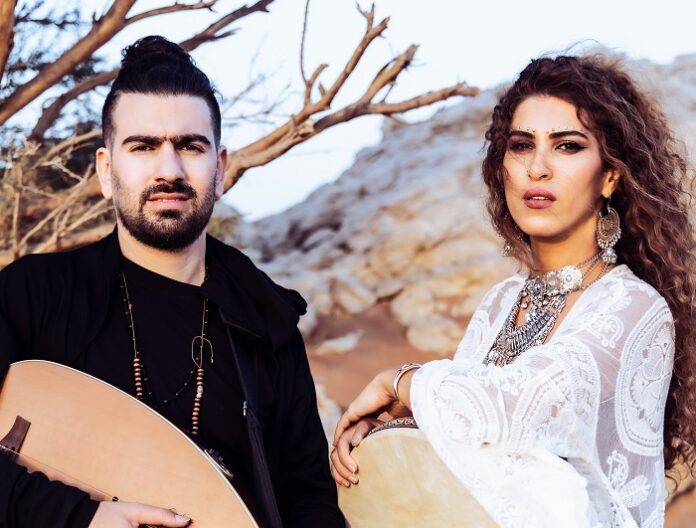 Omar Hamdan and Maro Hereira better known as HAWAZIN are set to reach new heights with their unmissable style and unique sound that have already put their name high on the list of electronic music artists to follow. 
Check out the full interview below!
Tell us more about yourself & your music career?
Hawazin is musical concept created by Omar Hamdan and Maro Hereira.
Omar Hamdan is a multi-instrumental musician and producer based in Dubai – UAE. He plays guitar, oud, bouzouki, qanun and percussions. He started to play guitar in 2005, back home in Jordan – Amman, he studied with a famous teacher called Khalid Tawfiq. Then he started his journey of producing electronic music back in 2010 producing different styles from electric house to deep house to pop. He recently started an electronic band called HAWAZIN, and he is the DJ and musician in the band. Playing oud/guitar alongside vocals and other instruments.
Maro Hereira is the vocalist/singer from North Morocco, she blends the North African style with Spanish/Andalusian music by heart. She started to sing at a very early stage, and done many musical projects in her original country, and expanded her career as an artist in UAE. Maro can sing and speak in different languages like Arabic, Spanish, French, and English. This gives her the freedom to sing songs from around the world.
Maro has released 6 original tracks written by her and played widely on local radio stations. Also, she has been part of most of the significant artistic events in the UAE.
How would you describe your style of music?
Our style is coming from our Arabic oriental cultural musical heritage mixed with electronic house grooves. it's a blend of Oriental ethnic music and electronic music, using Arabic Oriental instruments in all our tracks and performances.
Describe how music is important to society.
Music defines who we are. People find their voices in music, and whoever listens to a song understands the song in their own way. Music is one of the most important things that everyone needs.
What is the best time of the day to create?
For us, that would be the night time.
Who are your musical influences?
Rai Music, Chab Khalid, Gipsy Kings, Paco De Lucia, Fayrouz.
What is the most difficult thing about being a musician?
To be persistent, consistent, hard-worker and always inspired.
What has been your biggest career highlight so far?
Al Basous Project – It is an Organic Ethnic House mix of 8 original tracks.
What is your connection with Cafe De Anatolia?
Our new release with Cafe De Anatolia is called Dawaran, which means spinning in Arabic and is based on an ancient beautiful mystic Arabic poem.
Are you working on something new?
We are always working on new tracks, especially for our live performances.
Where and when is your next performance?
We have regular gigs in Dubai.
What's the best piece of advice another musician ever gave you?
To listen to your inner voice and nothing else.
Do you have any advice for aspiring musicians?
Be yourself, explore yourself, and don't limit yourself to only one style.