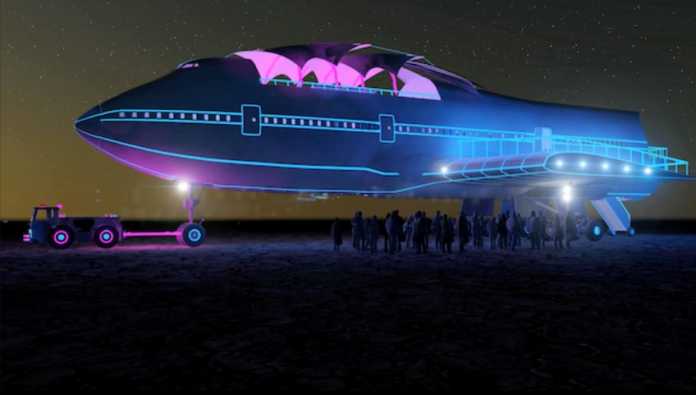 The annual Burning Man gathering is set to begin this Sunday and this year's set pieces are rumored to be the boldest ever.
Among the displays will be an enormous heart that will pulsate to timing of the viewers heartbeat, a giant jellyfish and a life size replica of the Boeing 747 airplane.
Burning Man draws at least 70,000 attendees every year, and the gathering has distributed up to one million in grants to make sure that new participants will get the opportunity to have their work on display alongside established artists.
One of the largest will most certainly be the 747 Boeing airplane, which was shipped in giant pieces from Mojave Air and Space Port. Over 500 volunteers and engineers from Boeing and NASA worked since 2015 to take apart the plane and add details such as stairs, paintings, and day glo lights to the exterior of the display.
Ken Fieldman, the project manager behind the purchase of the decomissioned plane, stated:
"It started off as a joke when I saw a bike made out of airplane parts at Burning Man and I said, 'Wouldn't it be great if we made an art form out of a plane?"
Another notable art piece that will be featured at Burning Man 2017 is the Pulsating Heart by Russian artist Vasily Klyukin.
The sculpture, which is now on it's 31st run, will feature a new interactive installation that will involve the viewer wearing a bracelet that will read their pulse. The heart will then synchronize with the bracelet and will light up in time with the viewers heartbeat.
"I am sure that it will become a notable object at the festival," Mr Klyukin said.
The giant Jellyfish will also be among one of works being displayed. This 40 foot high and 60 foot long jellyfish was created by Nevada based artist Peter Hazel. The work is made out of recycled glass and consists of 1,600 tiny jellyfish fused together to make the giant statue.