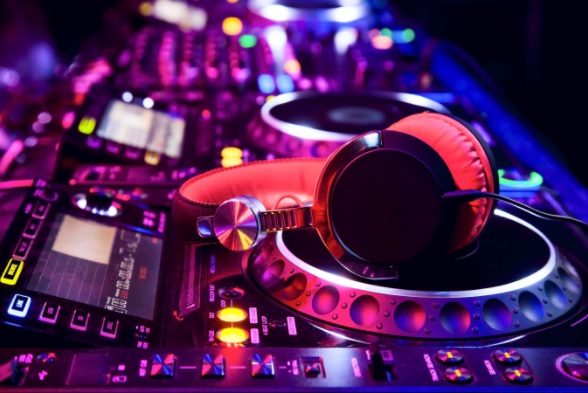 Think that you just have to be in NY or LA to see a great DJ perform? Think again. Philadelphia has been thriving with a wide range of artists in the electronic realm over the past few decades, and this city of brotherly love has been called home by top acts along the lines of Diplo, Jazzy Jeff, Josh Wink, and the late DJ AM.
With this abundance of talent, there's no denying that Philly is making big moves for the electronic music genre, and it's the newest generation of DJs and producers in this city that are setting the community apart from anywhere else.
In no particular order, here are my picks of 10 DJ's that are rising out of Philadelphia's electronic scene that I believe deserve a listen.
1.) Gordon Bombay
Gordon Bombay is the musical brainchild of producers Dave Kroll and Kevin Sharkey. Prepare yourselves if you press play, cause this duo have been taking the scene by storm with their groovy, deep house infused tracks.
After getting their start playing gigs for Soundgarden Hall (now converted to District N9ne), these dudes have been quickly mixing their way up the local EDM radar. They've moved on to open for huge acts such as Laidback Luke and Sander van Doorn, and are set to share the stage with night bass champ AC Slater in the next few weeks.
(Also yes, they're named after that awesome main character in The Mighty Ducks movie)
Favorite track: Gordon Bombay & We Are Nuts! – Everybody (Original Mix)
2.) Gun$ Garcia
True to her tough-as-nails name, Regina 'Gun$ Garcia' Dyhouse is a powerful force to be reckoned with when it comes to the world of DJing. Dyhouse found her way into the Philly community back in 2009 designing merchandise for future production titans, Seclusiasis.
Not one to be content behind remaining behind the scenes though, Garcia took it upon herself to get front and center as a performer, and got her first few scratches in at Flamin Hotz Records' 'I CAN HAS BASS?' party.
Since then, 'Gun$ Garcia' has gone on to become a pioneer for women in her field, releasing an all female rap mixtape that made it to SPIN's 'top rap albums' list, and has been responsible for rocking venues across the city since then. She goes as hard behind the booth as she does in the crowd, and her brand is gaining more recognition and respect each day.
Favorite track: Do u rly think i need u [Guns Garcia remix]
3.) Shizz Lo
Shizz Lo is the ultimate, party starting solo project from PA native Shaun Irwin. This producer has been dominating crowds with his bass and hip-hop influenced beats since 2014, and shows no signs of stopping anytime soon.
He's shared the stage with influencers from Stööki Sound to DMX, and his most recent remix of rapper Bok Nero's "Hop Out Da Phantom" earned a feature earlier this year on Steve Aoki's radio show, "Aoki House." When not throwing down at shows Irwin can also be found serving as a frequent collaborator with the city's noisiest hip-hop collective, Army of the 12 monkeys.
Be on the lookout for Shizz as he continues to crush his way through the electronic music circuit both in Philly and beyond. If you do happen to catch one of his future shows, be sure to drop it 'Lo'!
Favorite track? How You See It (Ft. Abrax Phaeton & Jeff Kush)
4.) Architekt
Architekt (Michael Pipitone) is no stranger to the vast world of dub heavy sounds. He got his start in music early on, serving as a key member for several rock and heavy metal outlets before he decided to pursue his own path as a producera and songwriter.
Armed with the filthiest arsenal of viciously crafted bass breaks, Architekt has rocked fests such as Camp Bisco, Safe and Sound and Moonrise Festival. He's played alongside notable acts such as Destroid and Flux Pavilion, and when he's not busy composing tunes that will have you breaking your neck on the rail, he can be found designing some wicked graphics with Quantum Mechanix Design Co. that have been featured in some of the city's best underground rave events.
This, combined with his unique soundscape and growing fanbase, is what's setting Architekt on the map for wider reach and success.
Favorite track? Control – The Ritual
5.) Bandlez
After meeting on a bus and discovering their mutual love for Deadmau5's "Ghosts n' Stuff", producers Vishal Bhanderi and DiAndre Ruiz joined forces to create the heavy hitting electronic duo now known as Bandlez.
Throughout their time in the music scene, these production wizards have managed to have their tunes broken in at huge fests such as Nightmare and High Caliber, and have even earned the approval of Firepower Record labelhead Datsik himself.
Their songs throw listeners into intense cycles of dubstep and riddim fueled mania, and have crowds in Philly and beyond going hard on the dance floor. The future looks promising for these guys, so keep your eyes peeled for a Bandlez show near you.
Favorite track: The Anthem
6.) Sweet Teeth
Producer Sweet Teeth (Erich Hoffman) is a dream made in trap music heaven. He found a passion for Philadelphia's electronic community while attending college and has since progressed to play alongside the likes of artists such as Ghastly and LOUDPVCK.
He's on board with L.A based label "Swang" and has earned slots on high level events such as NYC's Night Nation Run. Hoffman has also spent his time giving back to the local DJ community with his Q&A video, with the intent of providing helpful advice for newer producers looking to break into the EDM industry.
This humorous, honest approach to his production process is what continues to set him apart as an artist. That, and his music is pretty darn good as well.
Favorite track: Clever feat. Aviella Winder
7.) BLUDBORNE
Self-proclaimed 'riddim spitter' Bludborne has been cutting his sick mixes across the city since way back in 2013. Throughout his ventures in the local EDM community he has been a part of some of the scene's most underrated rave shows, and he's only getting better.
He's served as one of the key participants of The Kontrol Room, which has been one of Philadelphia's top dubstep event companies over these past few years. BLUDBORNE's hard work ethic and downright dirty bass drops will carry him far in his ongoing DJ career.
Favorite track? Black
8.) Fenx
Fenx is the rapidly rising music project from producer Sean Caneps. Caneps started making music after being inspired by EDM legends such as Bassnectar, and felt the need to create songs with the goal of spreading positivity across his local community.
Caneps describes himself as "Just your favorite burn survivor making, mixing and mashing your favorite music!" His tracks combine the best elements of modern bass and riddim, and he's been gaining traction with spots at events such Nightmare festival in MD, and Minus Zero fest in Vermont.
With so much going for this newer DJ, I won't be surprised if he makes it big in the near future.
Favorite track? Skum Fuk
9.) Wassup Gina
Part vampire slayer and part disc jockey, Gina Hadji's been busy bringing some poppin club mixes to the Philly community as of late. Her influences include Azn Jake, Sweat Daddy, and Dirty South Joe, and her music has become a vital part of local hotspot events such as Tigerbeats and Holy Trinity.
Gina's mixes incorporate everything from 90's TLC throwbacks to more modern house mixes of Schoolboy Q's "Man of the Year." Her style may be a bit out there, but it will definitely have you busting a move out on on the floor.
Favorite track: Pray to God x Pjanoo (wassup gina mashup)
10.) Get Up
Michael Getupart, better known as "Get Up" has become a mainstay in the Philadelphia music scene with his funky, psych rock infused songs. His style is defined by his ability to flawlessly combine soulful record samples with modern, cutting edge synth and bass.
Getupart has played at local venues such as The Foundry, and also frequently hosts events to help support local artists at his pop up gallery titled "Get It." He's been making waves in the city with his unique mixes and bold street art, and here's hoping we see more from this ongoing project soon.
My favorite track? Make you mine