Have you and your rave squad gotten your SNOWTA tickets yet?? If you've been sleeping on the biggest and, sure to be, most lit NYE party-turned-festival… well, it's time to get woke.
Minneapolis, Minne-snowta is set to host the two-day festival for its second year at the Minneapolis Convention Center. Alex Heiligman, who also produces Infrasound, and Zack Chazin ent came together last year to pull off one of the craziest parties of the year; and they contained the madness to only a single day.
It was apparent last year that the Snowta team didn't waste any of their creative talent. Every direction you looked, there were impressive art installations and vendors throughout the facility, they even had a Ferris Wheel!
With huge headliners such as Big Gigantic, Tipper, Infected Mushroom, and Waka Flocka Flame the Snowta fam would have their work cut out for them to compile something even greater for this year. With everything they have promised for this year, its obvious they didn't take this task lightly.
Not only is this the largest indoor music festival in the Midwest, it's also bringing in a lineup that is second to none. Canadian Dubstep DJ and producer Excision, the OG of heavy bass, is set to bring his custom Paradox production for it's first New Years debut. Word on the street, with Excision set to do the countdown into the new year, not only will the ball be dropped, but people's jaws will be right along with it.
The paradox production, PK sound included, will be in action at the main stage for all of the artists for both days. Pretty Lights live will be hitting the main stage, so its sure to be a super unique PL performance you won't see anywhere else and definitely don't wanna miss.
The trap house king Gucci Mane and other rap talent like Post Malone and plenty of local hip hop artists will be in attendance to create the perfect hype-festival feeling.
Not contained to any genre but each known for their ever-evolving creative tones and heavy deep, low bass.. Yheti and Liquid Stranger will be there making you question reality. Other major EDM talent includes Ganja White Night and Bear Grillz. Twin city natives Jon Wayne and the Pain and jam-reggae group Wookiefoot were also added to officially create the dopest, most diverse lineup to be found.
With four different stages, there's no way you won't keep your dancing shoes on all night long. You can find the entire lineup below!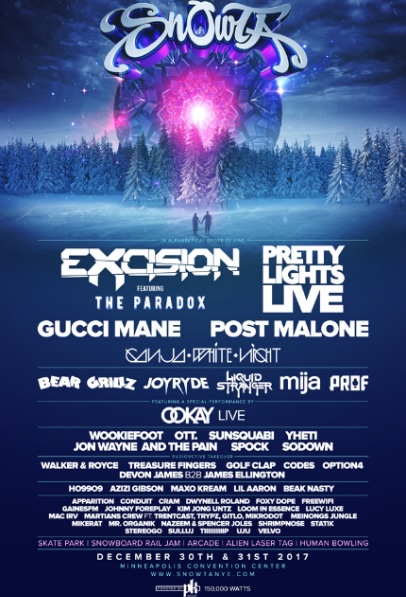 Though, obviously a major factor, the music isn't the only thing to make a festival. The Snowta team easily shows their collective experience they possess. Bringing in Aaron Brooks for live painting on BOTH days.