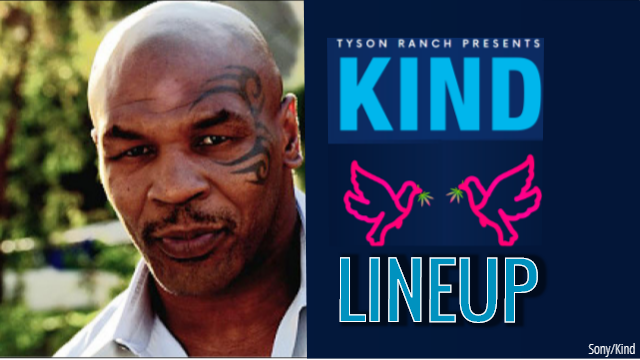 The world-famous athlete and professional boxer, Mike Tyson, has become increasingly popular in the cannabis world as an advocate for the marijuana plant and all its benefits.
Tyson has publicly admitted to boxing after smoking cannabis and has gradually become affiliated with marijuana in general; he even pitched a TV network comedy about his life as a ganjapreneur called "Rolling with the Punches". It is no secret, Mike Tyson will tell you that he likes to smoke pot.
Moving forward with his marijuana mindset, Tyson has decided to have a cannabis-themed music festival on his Los Angeles-area ranch on February 23, 2019.
The Kind Music Festival will be a first of its kind. The festival will intertwine music, fun, cannabis, and humanitarian efforts. With California's progressive cannabis laws, attendees will be allowed to bring marijuana to the festival. The festival is aimed at the acceptance of the plant amongst other things.
The Tyson Ranch Resort is a 412-acre entertainment complex, luxury gambling, and cannabis research and design facility, that is currently in development, as proclaimed by the official website.
The affordable festival has early bird tickets starting at US $55, and one dollar of every ticket sold will be donated to Standing United, which is a non-profit organization that aims to help people that are struggling with addiction and homelessness.
Along with the headliner Miguel, performers Chicano Batman, Starcrawler, Yonee, Mac Ayres, and All My Friends Hate Me are all set to rock the crowd. The festival website says that it will be a "pop-up micro-festival event", that will feature food trucks, a space called "Chillville" that will have one-hundred specialty bean bags, and a "fun-zone", that will have massive inflatable rides, obstacle courses, mazes, and more. It seems like all of the makings for the best day ever.
Cannabis or cannabis related material will not be sold at the Kind Music Festival, but hype predicts that is could certainly be in store for the future. California Assembly Bill 2020 went into effect January 1, 2019, and allows consumption and purchase of marijuana at certain special events.
The Kind Music Festival acknowledges and appreciates California's marijuana laws and has publicly stated "KMF salutes California's progressive stance on cannabis and its updated recreational/medical laws that went into effect on Jan 1, 2019,", leading the public to believe that future events will involve the sale of marijuana and related swag.