After dropping "Jackhammer" on fans just a few weeks ago, SNAILS is back with his new single "RKO" featuring Rico Act.
Wrestling officially meets its headbanging match with "RKO," – the track contains that signature SNAILS heaviness and grit, which pairs perfectly with Rico Act's bars, while paying homage to famous WWE wrestler Randy Orton. Rico Act is known for his aggressive and destructive rhyme sequences on productions with Borgore, Riot Ten, Spag Heddy, Dubloadz and more.
"Working with Rico Act on this song was so much fun! He brought up the idea of incorporating the wrestling world with the headbanger world and loved it!! So we decided to create a bass anthem and pay tribute to one of the greatest Randy Orton and his famous move the "RKO" – SNAILS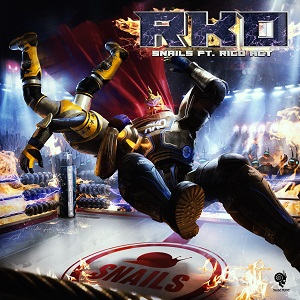 Slugz fam will have plenty of chances to catch SNAILS this summer as he's taking his earth-shattering beats to famed festivals including Lollapalooza, IleSoniq and Bass Canyon, and more.
In addition to returning to Lolla's Perry's stage for a solo closing set, SNAILS is performing a massive versus set alongside Gud Vibrations guys NIGHTMRE and Slander. The debut Gud Vibrations vs. Slugz Music battle set will be at Lollapalooza Paris just a week prior.
Listen to the track below.