Your favorite dubstep kings have joined forces yet again! Press play and prepare to headbang to the massive single "Front 2 Back" by SNAILS and Kill The Noise, featuring Sullivan King – out now on SNAILS' Slugz Music imprint.
A follow up to the three artist's initial collaboration "Shake The Ground" – "Front 2 Back" is complete with earth-shattering bass, screamo style vocals from metal/bass head hybrid mastermind Sullivan King, and a switch up on the second and third drops that will leave your head spinning. "Front 2 Back" brings out the heaviest sounds from the three producers, whose work yet again proves to be some of the finest in today's bass music scene.
Fans who want to hear "Front 2 Back" live are in luck – SNAILS is currently on his World Of Slime tour – and this is an experience that dance music has never seen. State of the art holographic technology, brand new visuals and SNAILS' custom Shell 2.0 stage production creates a more immersive environment for attendees. Tickets are on sale here!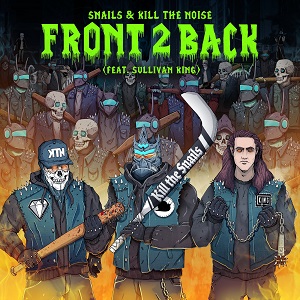 "Even when this was still a demo it went off so hard every single time. Literally the first time I played it people heard the hook once and were singing along. Really cool moment for sure! Really stoked to work with these guys again we always have a lot of fun workin on ideas together." – Kill The Noise
"'Shake The Ground' is by far one of my absolute favorite tracks, especially to play out. When Jake and Fred told me they wanted me to come in for a follow-up, I honestly thought 'how the hell do we top the first one lol' since it has such incredible crowd energy. We worked on the instrumental of the song for a little and it immediately was just as heavy if not more in my opinion, but then when the vocal process came, we thought about doing something with more crowd interaction, the sort of call and response that a band would do in a show breakdown.
I happened to have an idea that was actually originally for 'Shake The Ground' that Kill The Noise still had and he put it to the track and it worked perfectly. After a re-record and some tweaks we got to debut it at Red Rocks and you could just see 10,000 faces instantly get what this song was for – all of them to get absolutely mental to.
It's such a great feeling knowing you've made something that's not just for listening but for experiencing, and I know that's what we did with 'Front To Back'…." – Sullivan King
Listen to the track below!