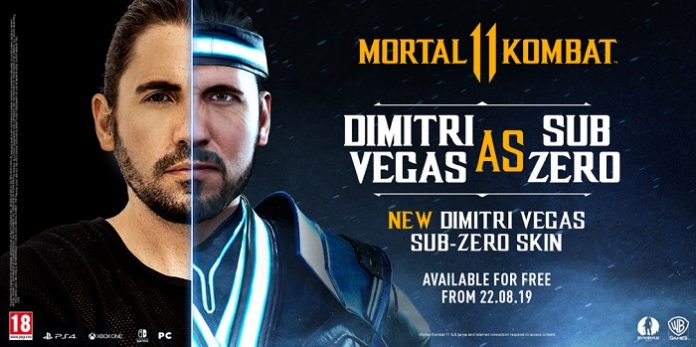 Dimitri Vegas, one half of Belgium's favourite DJ duo Dimitri Vegas & Like Mike, strives to continually push the boundaries of possibility in the world of entertainment past his dominance in electronic dance music.
His latest venture will give fans the opportunity to play with a signature Sub-Zero themed character skin in the Mortal Kombat 11 videogame that is inspired by the superstar DJ and actor.
The Dimitri Vegas Sub-Zero character skin will be available as a free download for all Mortal Kombat 11 owners on Aug. 22 for PlayStation 4, PlayStation 4 Pro, the Xbox One family of devices including Xbox One X, PC and Nintendo Switch.
This isn't the first time Dimitri Vegas has worked with the team behind Mortal Kombat 11. Alongside brother Like Mike and Bassjackers, he remixed the iconic Mortal Kombat theme song, a cultural staple of the Mortal Kombat franchise since its 1995 Film. The remix was predominantly showcased in the Mortal Kombat 11 Launch Trailer, released this past April. Dimitri also created an original music track titled "You're Next," which was featured in the first Mortal Kombat 11 Gameplay Reveal Trailer back in January.
Dimitri is expertly placed to provide the motion capture and voiceover work for this custom character skin in the latest version of the critically acclaimed franchise after pursuing a flourishing acting career that has seen him cast in the forthcoming "Rambo V" film alongside Sylvester Stallone, as well as previous appearances in high-profile films such as "Lukas" with Jean-Claude Van Damme and providing the voice of Peter Parker in the Belgian version of animated film "Spiderman: Into the Spiderverse."
Dimitri continues to excel in whichever facet of the entertainment industry he turns his hand to, and now avid followers have the chance to join the fight with the icy cool DJ in Mortal Kombat 11.
Dimitri's work with Mortal Kombat 11 also extended to the game's London Reveal back in January, where he took part in a celebrity head-to-head tournament that featured other heavyweight names from the world of entertainment, from boxing star Chris Eubank Jr. to 10-time world heavyweight judo champion Teddy Riner, and many others.
Mortal Kombat 11 is the latest installment in the critically acclaimed franchise, providing a deeper and more personalized experience than ever before with an all new Custom Character Variation System that gives players the creative control to customize versions of the entire character roster.
Developed by award-winning NetherRealm Studios, Mortal Kombat 11 introduces a new cinematic story continuing the epic saga that is more than 25 years in the making. To learn more about Mortal Kombat 11, please click HERE or join the community conversation on Facebook (MortalKombat), Instagram (@MortalKombat), Twitter (@MortalKombat), Twitch (NetherRealm), YouTube (Mortal Kombat), Discord (MortalKombat) or Reddit (MortalKombat).
Watch Mortal Kombat 11 – Official Launch Trailer below.