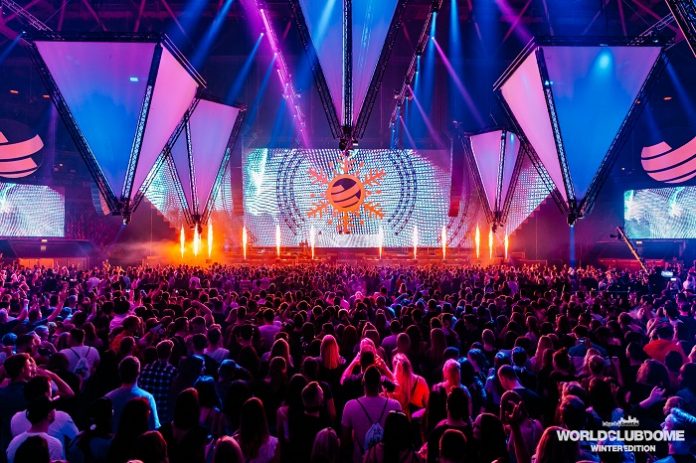 BigCityBeats WORLD CLUB DOME Las Vegas Edition will not take place in 2020 as planned before due to COVID-19 outbreak.
"Health is the most precious asset we can treasure", says BigCityBeats CEO Bernd Breiter. "We have to protect ourselves, our family and our friends. We need to keep our distance, until further notice. Until the CoronaVirus is defeated."
And in response to the current regulation which insists that until the end of August, all events of this size must be cancelled. Bernd responded, "We have been in constant contact with the relevant authorities from the beginning of the crisis. Of course we are very sad that WCD Las Vegas cannot take place this year. But the health and life of everyone is our top priority.
We also have a responsibility towards our visitors, loyal fans and the 1,500 people who work with us during the event. However, this means that we are even more excited about WCD Las Vegas Edition in 2021. And we promise it will be bigger, more spectacular and longer than ever before!"
Big City Beats World Club Dome Las Vegas Edition, with the world's largest "casino", will now not take place on June 5, 6 and 7 this year as planned. Instead, WCD fans can look forward to the Las Vegas Edition, which will take place across four consecutive days in June 2021.
On June 3rd, 4th, 5th, and 6th, 2021, WCD Las Vegas Edition, for the first time ever, will be a four day festival.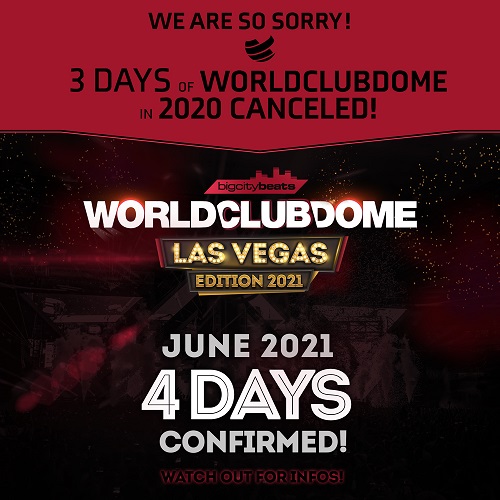 The gates are due to open a day earlier on Corpus Christi (public holiday). Granting WorldClubbers access to the Outdoor Main Stage at the Commerzbank-Arena site. Where numerous international, headline acts will be set to appear.
All current ticket holders will shortly be contacted by email, and informed of what options are available regarding their already purchased tickets. "Of course the money is not lost. We will review all options available to us for ticket holders in this exceptional situation, and will announce them shortly. What we can guarantee is that we will reward the loyalty of our WORLD CLUB DOME community. This will also include a one-time discount campaign for BigCityBeats WORLD CLUB DOME Winter Edition 2021." says Bernd Breiter.
The BigCityBeats WORLD CLUB DOME Winter Edition takes place on January 8th, 9th and 10th for the third time in a row at the MERKUR SPIEL-ARENA Duesseldorf. More information about this campaign will be announced on the BigCityBeats and WORLD CLUB DOME social media channels.
In 2021, BigCityBeats Las Vegas Edition Club Village, in Frankfurt's 47th District, will have an exclusive marketplace, stage and so much more. And of course, everything will be in the style of the world's greatest city, Las Vegas. As well as being comfortably chauffeured to the arena in shuttle buses, WorldClubbers can camp and stay while saving money. Furthermore, thanks to various cooperation from their partners, there will be fantastic value for money hotel packages available.
In 2021, in true Las Vegas tradition, lovers can say "I do" in an exact replica of the Las Vegas Chapel. In front of the world-famous tree, couples can get married with "Elvis" as the best man. Applications can still be sent to marry@bigcitybeats.de.
For the chance to win this once in a lifetime opportunity.
Simply record and email an original marriage proposal, and with a little romantic luck, the happy couple will take flight on the BigCityBeats helicopter and fly over the entire party area after the wedding.
Good Luck WorldClubbers.
"We are very sad that the BigCityBeats WORLD CLUB DOME Las Vegas Edition 2020 cannot take place. But let's look into the future. 2021 will be bigger, longer and louder. And: We will shorten the time to the next biggest club in the world as best as possible and already promise further highlights from the BigCityBeats house, "says Bernd Breiter, Managing Director of BigCityBeats GmbH regarding the cancellation of the big event BigCityBeats WORLD CLUB DOME Las Vegas Edition 2020.
Watch the video for BCB WCD Las Vegas Edition 2021 below!