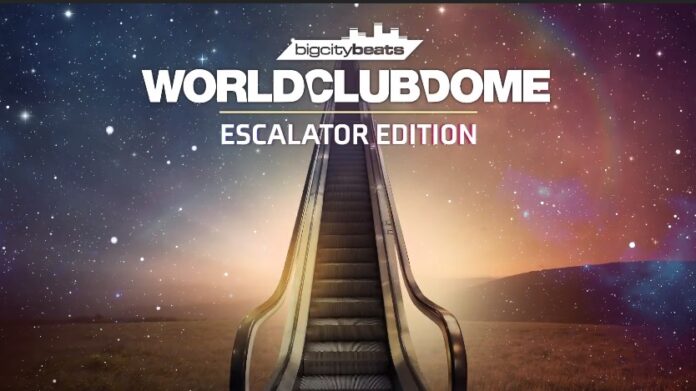 BigCityBeats WORLD CLUB DOME announces a very special DJ set on the longest self supporting escalator in Europe.
Here's what BigCityBeats CEO Bernd Breiter had to say about the event:
"With the MyZeil shopping centre in Frankfurt, we have found ourselves a great partner for the very last roof sessions".
Rightly so! Because the huge shopping centre is home to the longest self-supporting escalator in Europe, "The Expressway". With a length of 42 meters, it connects the ground floor with the fourth floor – FOODTOPIA.
"And on this escalator we are positioning our DJs – while selected lucky guests will get the chance to listen to and watch from individual floors, (while following current health and safety hygiene regulations). With the Escalator Edition we are building a club five floors high, with a height of 30 meters and a headline DJ transported across each floor, travelling through each area during their show. This has never happened before!" he added.
Pure Unadulterated Escalation with the Escalator Edition
Before a lineup of international headline DJs between 10pm and 12am play the concluding sets of the inaugural Roof Sessions on Frankfurt's 'Expressway'. The roof terrace of Fitness First in Frankfurt's MyZeil will host an incredible lineup of music between 6pm & 10pm.
At a height of nearly 40 meters, the terrace offers a sensational view of the Frankfurt Main metropolis skyline and with the bonus of incredible music, will ensure a spectacular once in a lifetime experience for everyone involved.
DJs will change on the hour every hour, until 9pm when BigCityBeats CEO Bernd Breiter is set to host a conference, in the new MyZeil FOODTOPIA culinary and gastro eating experience.
Taking into account each of the previous BigCityBeats events that have taken place during the Corona Crisis, the visionary boss of BigCityBeats will also offer an outlook of what's in store for himself and his close knit team in the near future.
We can be sure and look forward to future events because even if the whole industry is standing still, the words "wait and see" do not exist in the vocabulary of the enigmatic and much loved BigCityBeats entrepreneur. Be Prepared!
Programme Lineup
6pm to 10pm Rooftop (via live stream across all social media platforms)
9pm – Press Conference with Bernd Breiter at FOODTOPIA
10pm to Midnight – Escalator Premiere
(Pre-register now via link and get the chance to be one of the few guests to experience this once in a lifetime event.)
Two months of Roof Sessions – Perfect Balance
More than ten million unique users across all social media channels… Around two dozen international headline DJs, draped in the impressive backdrop that is the Frankfurt skyline… Fantastic sunsets with spectacular live performances… Live extravagant performance bartenders and superstar chefs with ClubKitchen… Live with DJs from Berlin, Zurich, Los Angeles, New York, Taiwan, Australia, Belgium, and The Netherlands… Exclusive radio sets from the world's biggest DJs – These are, and this were, BigCityBeats – Roof Sessions!
When BigCityBeats CEO Bernd Breiter created the first "event" to take place during the Corona Crisis on March 28th 2020, he had no idea that his new concept would explode in a storm of inspiration and enthusiasm that would ripple through the event industry and around the world.
CNN, Forbes Magazine and RTL and countless other media organizations covered the event, praising the creative spirit of the family orientated entrepreneur. "Saturday was, is, and has always been the main day for the club community," said Breiter. "And in times when we cannot celebrate in clubs and festivals, I still want to project this weekend party spirit into the home and living room of every WorldClubber."
The BigCityBeats WORLD CLUB DOME Roof Sessions with the world's first stadium event in the (nearly) deserted Commerzbank-Arena Frankfurt and the WCD Pool Sessions, a highlight of which were the live sets direct from the stadium pool where 100 lucky clubbers and VIPs got to experience the event before being broadcast online.
The ingenious BigCityBeats team were the first to turn drive-in theaters into a "safety" club, and offered 10,000 visitors across seven shows the chance to enjoy live club music once again. Exactly two months after the premiere of the Roof Sessions. The concluding event now approaches. The final Roof Sessions will take place Saturday, July 4th 2020, in Frankfurt's MyZeil.
3 Questions to Bernd Breiter
When will we finally have the chance to celebrate properly once again?
"That is truly the question of all questions that every event organizer has been asking themselves. The Night of Light initiative and connecting statement was an essential necessity to draw attention toward our industry. Politicians have been ignoring this in recent weeks. With so many companies and businesses taking part by illuminating red nearly 9000 buildings across Germany, it has caused the Government to finally take notice. First talks between the Government and our industry are being scheduled. All we can do is hope for the best".
Why have you decided to stop the Roof Sessions?
"When the lockdown first came in mid-March, we immediately focused all our creative processes and energies to help our industry overcome the Corona-Crisis. And after exactly two months, we feel that the time is now perfect to start concentrating on new projects and to stimulate new, unprecedented events in this incredibly surreal period of time we find ourselves in. We also feel that we should focus on our upcoming festivals such as BigCityBeats WORLD CLUB DOME – Winter Edition in January".
Do you feel you're living dangerously when planning an event the size of the Winter Festival, while being unsure whether it can even take place?
"Of course. But if we didn't do anything and all just sat around on our hands we'd all go a bit mad. In addition: If the German Federal Government grants approval for major events on day X, it would be impossible to conjure a festival the size of Winter Edition out of thin air. It take months and months of preparation to organize professionally. DJ bookings, stage design, light & sound, floor optics and so on. There's no way to plan and prepare something of that magnitude within three to four weeks."
LINEUP
Live from Rooftop
18:00 – 19:00 Carla Casanova
19:00 – 20:00 Paul Lomax feat Marisha (live)
20:00 – 21:00 Felix Kröcher
21:00 – 22:00 Moguai
Live from Escalator
22:00 – 23:00 Vize
23:00 – 00:00 Le Shuuk
Video link.
* During the entirety of the Rooftop Sessions and BigCityBeats WORLD CLUB DOME Escalator Edition, all hygiene regulations are strictly observed. There is a strict mask requirement. There will also be exclusive areas where guests from two households can follow the Government approved 1.5m social distance regulation and take part in the session.
Check out the official teaser below!