Fearless when it comes to breaking down the sonic barriers of house music, artists Jakk'd, HAWD HITTA, NoBueno, and $ON-$HINE have linked up for a brand-new track.
Put on the rising imprint SEARCHPRTY RECORDS, "CHECK THIS OUT" is a breathtaking collab that is destined for the main stage. It is an intricate fusion of each of these producers' unique styles and musical identities.
Explaining this thrilling melting pot of sound, NoBueno says, "Jakk'd came with the bounce, HAWD HITTA the groove, $on-$hine with the trumpet enhancements, and I was excited to bring the grittiness." Boasting a percussion-heavy bassline, "CHECK THIS OUT" also intertwines hair-raising vocal samples. Between these elements and the chilling effects, this banger is packed with lively buildups and hypnotic drops.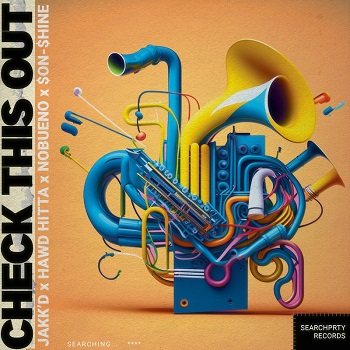 "CHECK THIS OUT" previews an exciting 2023 ahead for this innovative crew. They plan on joining HAWD HITTA for upcoming shows on his US cross-country tour while having a bunch of mesmerizing IDs in the works.
Listen to the track below.
Check out the full interview below!
Which artists did each of you look up to as role models before launching your own careers and why?

Jakk'd (Max):
 "As a kid I was very influenced by my parents, Tom Petty, Grateful Dead, Led Zeppelin, even my own tastes with Eminem, 50 Cent, etc. When I got intro'd to EDM, Skrillex was huge, KYGO even, Virtual Riot, Porter Robinson. Macy Grey, Santana and Kenny Beats would have to be my biggest inspirations though."
Jakk'd (Vjay): "I would say Timbaland has been my biggest inspiration, he got me into producing. Also Swizz Beatz, GTA, Henry Fong. Just producers that use zany sounds in their production to create a wild production"
NoBueno: "I'm looking up to the future version of myself, Skrillex and DJ Snake are influences, as well as Knock2."
HAWD HITTA: "I would say that I grew up listening to AC/DC, The Who, Led Zeppelin, and other bands with strong guitar, rhythm and bass lines. I only got into EDM when I started to hear Tiesto, Avicii, Swedish House Mafia towards middle school and high school"
$on-$hine: Definitely Block and Crown, Groove Armada, Tensnake, and Scruscru were artists that got me into the DJ path.
Other than the vocals, how does the name "CHECK THIS OUT" align with the song and its vibe?
NoBueno: "It's the first song we've collectively put out together, and so we are referring to the collective we are a part of"
How did you create a sense of balance in "CHECK THIS OUT" that reflected each artist's unique style?

$on-$hine: "We all had our voices heard, and we all have our unique parts that we played to make this one come together"
NoBueno: "We got the crew together and once the avengers assembled, everyone had a chance to shine.  The record lets everyone have their input in its own unique way. It's not easy to get 5 producers to shine on a single record." NoBueno
What are your guys favorite venues to play at in Los Angeles?

HAWD HITTA: "I'm a big fan of performing at Academy LA with Insomniac Events and their team in general, ever since I performed back with Club Glow (now a part of Insomniac) on the East coast. I also attribute my start out in LA to Keith2.0 who is a veteran in the music industry, along with Danielle Scullon; both gave me opportunities to get the HAWD HITTA project out there starting roughly 2 years ago.
NoBueno: "The Bardot at Avalon Hollywood, who gave me a shot to perform, Madame Siam and Dirty Laundry as well"
JAKK'D: It's always fun playing Catch One, the warehouses and other venues around town, and looking forward to playing some bigger ones this fall
$on-$hine: I'm excited to perform in LA, but just going to take the time to get my project together before that first show happens.
What is a new sound or genre you'd be interested in experimenting with in the future and why?

NoBueno:
 "I'm not sure I can name another electronic producer that has their vocals over their tracks the way I do, and I'm excited to release some of that soon"
HAWD HITTA: "Dubstep! Only kidding of course, but I think that it would be cool to try out some of the funk house side of the overall dance genre with $on-$hine in the near future."
JAKK'D: We never really want to limit ourselves when it comes to our songs and are trying to keep the quality standard very high from here on out.
$on-$hine: I'm focused on releasing my singles around the funk house genre but open to being a feature on other tracks that are non-funk house if I want to go that route.