Djakarta Warehouse Project #DWPXV, one of Southeast Asia's largest music festivals, is proud to announce additional names joining the #DWPXV lineup to perform at its 15th Anniversary edition on December 8, 9, 10, 2023 at GWK Cultural Park, Bali, Indonesia.
After last year's absence, #DWPXV is incredibly excited to bring Anfisa Letyago back to the Djakarta Warehouse Project lineup. In 2021, Anfisa founded "N:S:DA", her own record label, which marked a new step in her career. That same year she released two EPs, "Listen" and "Nisida", and managed to reach a growing audience, establishing herself as one of the most influential DJ/Producers in the electronic music industry.
Also joining the third phase lineup is Barely Alive; the Massachusetts-based EDM duo whose signature sound combines dubstep, trap, and drum'n'bass. After releasing an EP in 2014, the duo was named "the second best-selling dubstep artist of 2014". Beauz also returns to grace the #DWPXV stage after last year's appearance at DWP 2022. In 2022, the sibling duo released the single "Make You Say" and managed to reach around 1.6 million listeners in just 6 days of release.
In addition, Ookay is also announced in the third lineup phase. In 2017, Ookay teamed up with Marshmello and Noah Cyrus to release "Chasing Color". The song made it to #8 on the Billboard Hot Dance/Electronic Songs.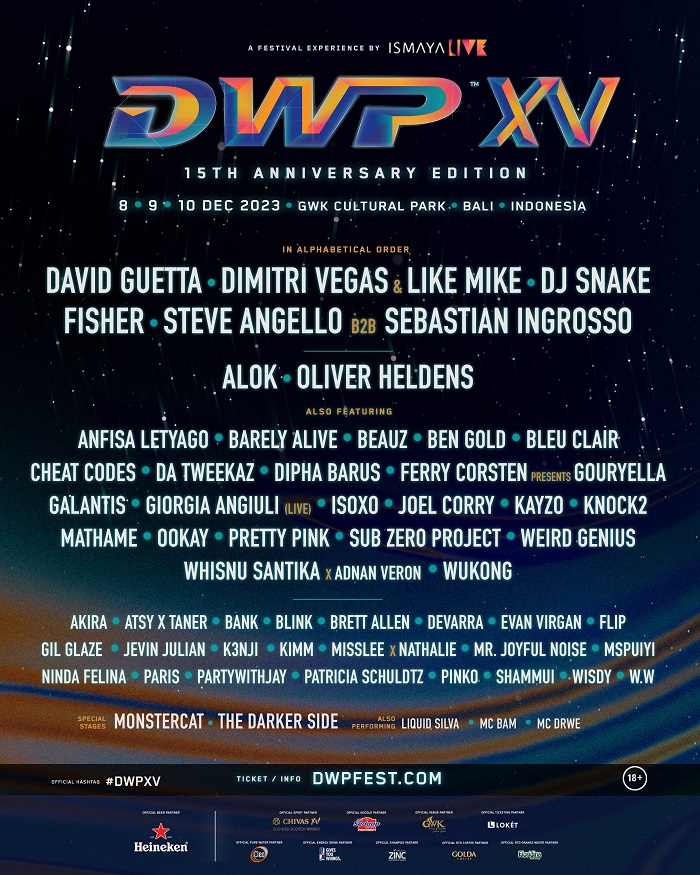 More excitement comes from Cheat Codes who also join the #DWPXV lineup. The Los Angeles-based trio consisting of DJ Trevor Dahl, Matthew Russell and KEVI reached #40 on the Billboard Hot 100 with their collaboration with Demi Lovato on "No Promises". Next is Singapore-based DJ and producer Wukong – real name is Alfy Ngor – who prides himself as "a new breed of performer", blending Asian ethnic elements and unique sounds into his sets.
In other news, Djakarta Warehouse Project announces a collaboration with Monstore to release 11 collections of #DWPXV merchandise available at dwpfest.com/merch. Shop and get 1 Raffle Point for every purchase of #DWPXV merchandise worth IDR 300,000 before November 30, 2023. Win #DWPXV Golden Ticket prizes ranging from VVIP #DWPXV 3-Day Passes, VVIP viewing areas, hotel accommodation, merchandise with International artist signatures, Fooma tokens worth IDR 10 million, and beer bottle cans worth IDR 10 million.
Bali and DWP as a festival destination will give you an experience of a music festival and tropical vacation all rolled into one. Bali is a city that is full of cultural diversity and will be the perfect place to represent the values that DWP upholds.
Stay tuned for more exciting announcements, including additional lineup phases, exclusive experiences, and surprises that will make the 15th Anniversary Edition of Djakarta Warehouse Project an unforgettable experience in the electronic music festival.
Djakarta Warehouse Project 2023 takes place from December 8-10 at GWK Cultural Park, Bali, Indonesia.
Watch the official trailer below.