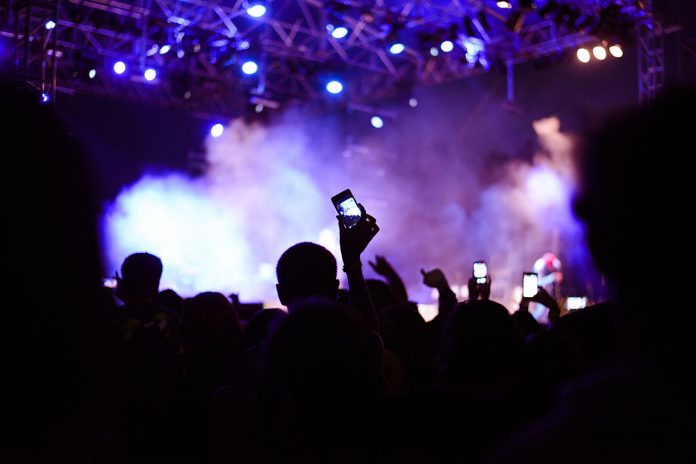 As previously reported by Variety and Music Feeds, Shutterstock photographer Chelsea Lauren received the shock of her life at the KROQ Acoustic Christmas concert this past Saturday, all thanks to QOTSA's lead singer Joshua Homme.
The incident, which can be seen in full in the video footage shared Youtube below, features Homme moving past Lauren on stage, only to backtrack and then in an "obviously very intentional" way, kick her camera.
"I saw him coming over and I was shooting away. The next thing I know his foot connects with my camera and my camera connects with my face, really hard. He looked straight at me, swung his leg back pretty hard and full-blown kicked me in the face." Lauren explained in a statement made to 'Variety'.
"He continued performing, I was startled, I kind of stopped looking at him, I just got down and was holding my face because it hurt so badly." she added.
Lauren was then treated for injuries at Cedar-Senai hospital and stated she would be filing a police report regarding the event. Hommes has since responded to Lauren's claim, and issued an apology letter via Queen's of the Stone Age Twitter account:
"Last night, while in a state of being lost in performance, I kicked over various lighting and equipment on our stage. Today it was brought to my attention that this included a camera held by photographer Chelsea Lauren. I did not mean for that to happen and I am very sorry. I would never intentionally cause harm to anyone working at or attending one of our shows and I hope Chelsea will accept my sincere apology."
While it is not clear if Lauren has accepted Homme's apology, she had this to say in a recent post made on her instagram:
"Assault in any form is not okay, no matter what the reasoning. Alcohol and drugs are no excuse. I was where I was allowed to be, I was not breaking any rules. I was simply trying to do my job. I hold nobody accountable for this but Josh himself."
According to the most recent reports, Lauren has yet to be contacted by Queen of the Stone Age's management.