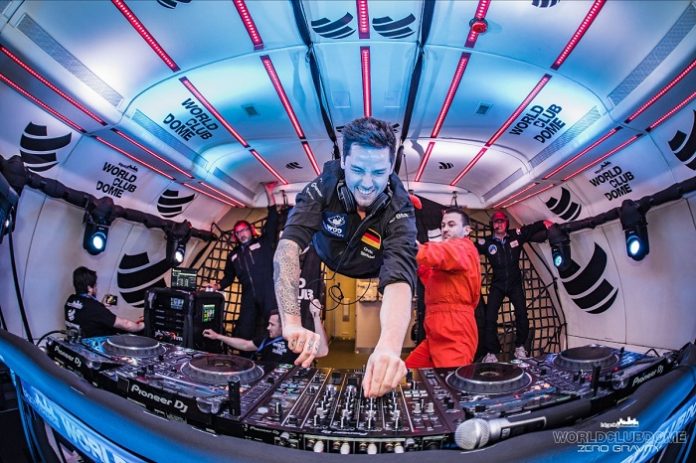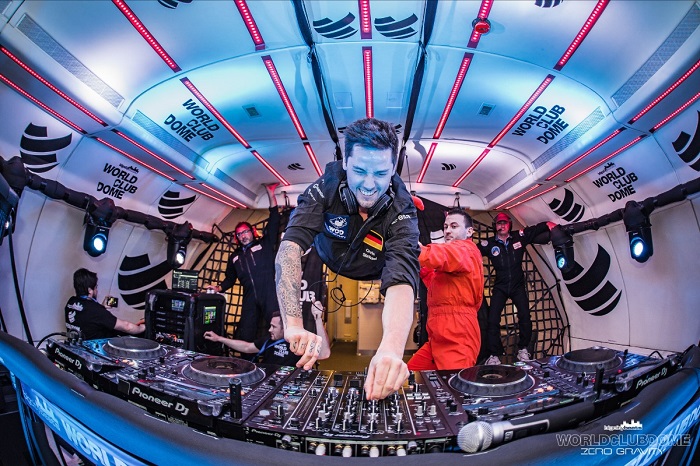 In what was the most spectacular festival pre-party in world history, WORLD CLUB DOME Zero Gravity: The Platinum Edition was a soaring success on March 25, 2019. With 50 VIP passengers on board from all around the globe, the event brought together people of all nations and backgrounds, who raised their country's flags for the first time in complete weightlessness.
In collaboration with the European Space Agency (ESA) and Frankfurt Airport (Fraport), BigCityBeats was able to turn one of their wildest dreams into a reality with the second edition of WORLD CLUB DOME Zero Gravity.
Taking their very important passengers on a trip into another dimension, this extremely unique event took place not only as the warm up party for WORLD CLUB DOME 'The Space Edition' in Frankfurt this June, but also to celebrate the 50th anniversary of the moon landing. Celebrating 'A Year In Space', BigCityBeats hopes to heighten interest in space travel on a global scale, and emphasise the undeniable connection between music, sports, fashion, film, TV, entertainment and space.
With participants travelling to Frankfurt from all over the planet, the guest list included Dominican Republic's Orange Is The New Black star Dascha Polanco, United States' YouTube and Instagram sensation Amanda Cerny, Germany's Eintracht Frankfurt players Sébastian Haller and Fredi Bobic, Australia's superstar DJ Timmy Trumpet, Korea's top electronic artist DJ Soda, China's top DJane DJ Kaka, Germany's Olympic Champion Fabian Hambüchen, Russia's most successful electronic export Swanky Tunes, Germany's top TV chef Tim Mälzer, Germany's most prominent Pop-Rap group Die Fantastischen Vier and German/American influencer couple Caro Einhoff and Jeff Kasser.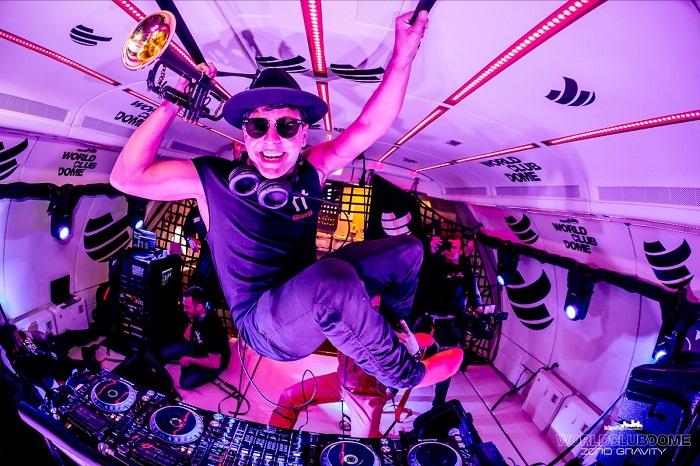 With Timmy Trumpet becoming the first DJ to play the trumpet in weightlessness, Tim Mälzer becoming the first chef to create a salad dressing in Zero Gravity, Sébastian Haller and Fredi Bobic scoring the first goal in weightlessness, DJ Le Shuuk becoming the first DJ to celebrate his song release in Zero Gravity with his new single 'Gold Baby' and Fabian Hambüchen managing to do the most somersaults while hovering in the air, the Platinum Edition made history multiple times over its duration.
With international astronauts and ESA members on board, the celebrities got as close as possible to the real space experience and truly bonded with the other passengers on the specially converted A310.
During the official press conference, Dascha Polanco said, "It was very emotional we saw a sea of flags and we saw so much unity even though there was no gravity. We were so united and it was such a beautiful thing, I've never experienced something like that. It is something really grounding even though we were in the air."
The livestream was tuned into by people from all over the globe, which further demonstrates the international feel of this incredible event, gathering people together for their shared love of music, entertainment and space. In a place where the sky is no limit, Sébastian Haller also tried his hand at DJing, as he took to the decks besides Timmy Trumpet in Le Shuuk to play a track in yet another world first.
Traditional clubbing is not an option for BigCityBeats and with WORLD CLUB DOME, they continue to push the boundaries and create a once in a lifetime experience for their fans. Delivering top quality events time and time again in extraordinary locations around our universe, make sure to secure your tickets for WORLD CLUB DOME 'The Space Edition' June 7–9, 2019 and WCD Cruise Edition 12–16 August, 2019.
Watch The Arrival BigCityBeats WORLD CLUB DOME Zero Gravity 2.0 below.
Watch Recap BigCityBeats WORLD CLUB DOME Zero Gravity 2.0 below.