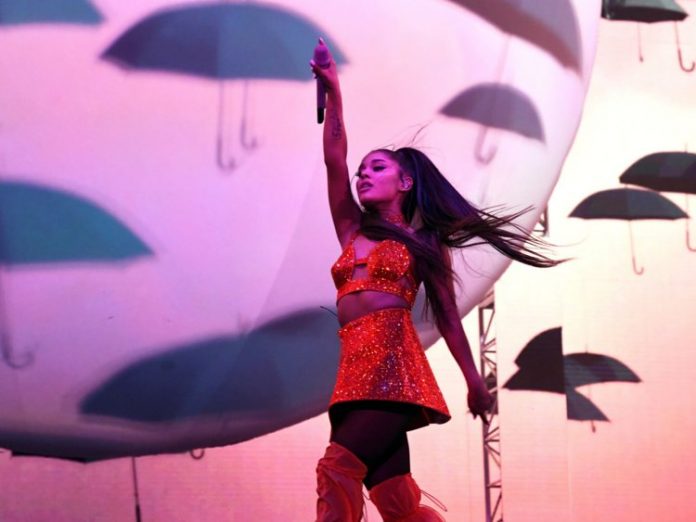 Ariana Grande put on two separate dazzling performances at Coachella music festival on both weekends of its 2019 event. While performing in front of a massive crowd, she captivated the audience and brought to the stage many surprise guests. Nicki Minaj, 'NSYNC, Diddy, and Mase joined her weekend one show, and Justin Bieber for her second act on weekend 2.
While the special guests helped make the production extra special, one unwanted surprise guest came to the party in the form of a flying lemon that was aimed directly at Ariana, and it nailed her mid-performance.
Video shows the superstar in her zone, rocking the mainstage during her headlining performance when the flying lemon came from the crowd and pegged her really hard. Grande did not break stride and to the naked eye, it seemed as if she was unaware of the fact that anything hit her at all.
It was not in fact that she did not feel it or notice, but because she is a boss and handled it with the utmost professionalism. A while after the lemon shot occurred she told the crowd "that's 'cause one of y'all threw a lemon at me, s*it".
Admittedly, whoever threw it has really good aim, it was probably a difficult task to throw it with such precision that it hit a moving target from a distance. Many artists would have flipped out and made a huge deal out of the occurrence and at the very least stopped production to bitch at the crowd for an extended amount of time while letting their disgruntled feelings be known, but Grande was cool as a fan about the whole thing.
Whoever the lemon thrower was, and everybody else that attends festivals and concerts need to understand that it is not acceptable to throw things at the performing artists whatsoever, especially heavy objects that have the potential to cause significant damage upon impact. Let's all be thankful that she shrugged it off and did not get hurt in the drive by fruiting.
Someone threw a lemon at Ariana Grande during her coachella performance LMFAO OMG pic.twitter.com/lTnqqQjmFj

— ☾ (@MrsBehaved) April 22, 2019